Who am I?
Personal Details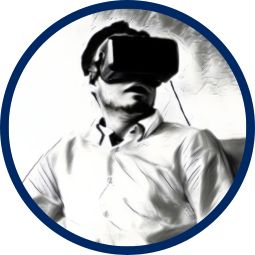 Gabriel Hussy
Swiss citizen
Rue de Bernex 376, Geneva, Switzerland
(+41) 076 693 32 89
My Profesional Profile
Specialized in using the power of the Internet as a business marketing tool, I am able to develop new global eCommerce strategies as well as related operations. I can also imagine, create, plan and execute digital marketing approaches focused on increasing the reach, visibility and conversion of your business. My in-depth understanding of user experience, multi-channel campaign management, performance marketing and online data analysis allows me to create successful programs to support conversion and demand generation.
As a Digital Marketing & eCommerce specialist, I am expected to stay on top of digital trends and respond to challenges with creativity and innovation.
My Professional Background
Work Experience
2008 May

-

Present
PPUR - EPFL Press
Swiss federal institute of technology
EPFL - Lausanne
eMarketing Manager
Digital Marketing & eCommerce
I've been working in the field of eBusiness, by the PPUR, an internationally renowned publisher, for almost 10 years. In this position I am expected to identify market opportunities and set strategies focused on leveraging the strength of Digital marketing and eCommerce. My main responsibilities are to extend and develop eCommerce activity on behalf my company, identify target audiences, create a brand image and maintain marketing campaigns on the Internet by the use of digital technologies. In that purpose I manage marketing campaigns in a multi-channel perspective - with a special focus on customer experience, usability, awareness and value creation. I also coordinate the development of digital programs and websites, aiming to increase the reach and visibility of my company's brand and publications, with partners and agencies.
About PPUR & The EPFL Press
The Presses polytechniques et universitaires romandes (PPUR) is an internationally renowned publisher, based at the Swiss Federal Institute of technology (EPFL) in Lausanne. The high quality requirements confers to the Press an international reputation as a reference publisher in the French-speaking world, but also worldwide thanks to its English-language imprint: The EPFL Press.
2007 March

-

2008 April
Sustainable development
Republic and State of Geneva
Project and communications officer
Sustainable developement, project management & communications
I worked for the Geneva State Service of Sustainable Development for one year. My main responsibilities were to contribute and support communications work, projects and programmes focused on sustainable development policies, ensuring economic development, social equity and environmental protection. My job consisted in coordinating projects, communicating, informating and encouraging sustainable consumption by the population, with an emphasis on individual behaviour. My main contribution was to introduce, into the Service, Web 2.0 Digital tools for project management and communications. I also coordinated translation, proofreading and publication of The Geneva guide for sustainable living.
The Geneva State Service of Sustainable Development
The Geneva State Service of Sustainable Development was launched in 2001 as a will to integrate sustainability in the heart of public action. Securing economic development, social equity and justice, and environmental protection is the main goal of the Service, that drives the Geneva's Agenda 21 and coordinates the implementation of the law on public action for sustainability.
2006 March

-

2006 December
Economic Cooperation
State secretariat for economic affairs
Transverse internship at SECO
ISO 9001 Quality management, Communications & Project reporting
I worked in Bern for the Economic Cooperation and Development, a division of the Swiss State secretariat for economic affairs (SECO) as part of a transverse internship. My main mission in the Division was to maintain and update ISO 9001 procedures, in accordance with my colleagues and superior after meetings. As a result, the audit of my division was fully approved by appointed auditors, following the ISO 9001 quality management rules. I was also contributing and supporting communications work, as website updating as well as press releases. In addition, I was also involved in project reporting.
A Division of the Swiss State Secretariat for Economic Affairs
The Economic Cooperation and Development Division of SECO is responsible for the planning and implementation of economic cooperation and development activities with middle income developing countries. It coordinates Switzerland's relations with the World Bank Group, the regional development banks and the economic organisations of the United Nations.
1999 January

-

2005 December
Other experiences
Medias and education
During my studies
I had different part-time jobs ever since I started my university studies, all of them allowed me to experience my potential in different environments. Please find here the most relevant positions that I held related to medias and education:

> Editor's deputy, Radio Cité Genève, 5 years
> Internship, Radio suisse romande, French spoken swiss radio, 3 months
> Private teacher, Association of private teaching, 5 years
> Replacement teacher, Republic and State of Geneva, 2 years
2009 September

-

2011 June
Postgraduate Education
Marketing Strategy & eBusiness
Business Venture Course
Marketing strategy, Communication and eBusiness - HEC Geneva
In order to complete my practical experience in Digital marketing and eCommerce, I achieved a postgraduate program in Marketing strategy, Communication and eBusiness at the Geneva School of Economics and Management (HEC). This executive program provided me helpful professional knowledge underpinning the principles of marketing strategy and eBusiness, as well as skills to undertake digital programs and communications plans. As the digital landscape continues to grow at a rapid pace, this program is of great added value to face with new changes, challenges and opportunities.
Venture Challenge Business Course - HEC Lausanne
I applied to the Venture Challenge Business Courses, by presenting the business plan of a web based digital project. As my application went through the selection process, I followed the courses which are organized into practical and project-oriented modules to train innovative business projects. Venturelab is a national program of the Innovation Promotion Agency CTI that works in close collaboration with the Swiss Federal Institute of Technology (EPFL), the Business and Economics Faculty of the University of Lausanne (HEC Lausanne) and others.
1999 September

-

2005 October
University of Geneva
Economics and social sciences
Faculty of Economics and Social Sciences, Master of Arts in Sociology
I started my studies in the Faculty of Economics and Social Sciences of the University of Geneva, where I achieved a Master Degree in Sociology with a wide focus on Administrative and Political Sciences. The studies program was most of all skill-oriented and combined profound learning modules in different methods (communications, social dynamics, audiovisual, network analysis, discourse analysis, statistics, intervention techniques, observation) and a final year project thesis.
Postgraduate Program in Public management
After my Master Degree in Sociology I followed a postgraduate program in Public Management, following my interests. In this progam, I learned how to analyse public management issues, using models and concepts from the social sciences and quantitative disciplines. I especially acquired skills in politics, law, public administration, decision-making, polycy making by performing policy analysis and assesments.
What I'm best at
Skills & Knowledge
eBusiness experience
Digital Marketing Strategy
92%
eCommerce & Operations
85%
Conferences
eMarketing & Digital days
eMarketing Paris & CREA Digital Day
Attended from 2009
eCommerce
eCommerce Paris & eCom Geneva
Attended from 2010
Other symposiums
EPFL Lausanne, University of Geneva HEC, Digital transformation London (in 2012).
Attended from 2009
Professional Skills
Digital Marketing
eCommerce
Project management
Online advertising
Word of mouth marketing
Social media optimisation
Branding & Messaging
Research & Analytics
Search engine marketing
Inbound marketing
Email marketing
Digital publishing
Hobbies & Interests
Sports

Sports

I enjoy practicing sports as running, swimming, snowboarding and windsurfing.

Photography

Photography

Photography is one of my hobbies during holidays.

Marketing

Marketing

I spend some of my time on self-development and exploring potential new marketing trends.

Movies

Movies

I enjoy watching science fiction movies in theaters and at home as well.

Technology

Technology

I am passionated about the impact of the internet on society.

Travel

Travel

I am passionated about travelling and discovering new places and cultures.

Reading

Reading

I enjoy reading books, newspapers and magazines, most of the time in a digital format.

Music

Music

One of my favorite hobbies is listening to different types of music and playing guitar as well.
Some of my work
Achievements
Beatiful Field

Photography
Get in touch
I believe that you will find my qualifications strong enough to justify an interview to explore mutual interests. Should you need any additional information, please contact me. Thank you for your consideration.
My Address
Rue de Bernex 376, Geneva, Switzerland
(+41) 076 693 32 89
Join me on social networks
Send a message